Tired of watching your favourite television shows in the living room, wanting to be able to binge watch your series on your bed while enjoying the ambience? Wanting to watch different shows at the same time? Wait no further as it is possible to install more TV points anywhere in your home as long as you stick to its requirements!
EM Electrical Engineering comprehends the inconvenience of a power socket failure or tv point failure in Singapore. Hence, it is absolutely necessary to hire electrical contractors like us with reliable electricians in Singapore to ensure that such inconvenience does not occur frequently.
We provide a one-stop solution for all your power socket or tv point installation and repair needs. Our licensed electrician in Singapore will assist you with installation of new tv points and repairing faulty power points.
Table of Contents:
1. What is TV point installation and why do you need it?
2. Are there certain locations that are better for TV points installation?
3. Possible problems that might occur through faulty installations
4. Reasons to avoid DIY TV point installation
What is a TV point installation and why do you need it?
A TV point installation involves adding a new TV antenna wall socket. These holes exist for TV antenna cables to be plugged into it, providing TV reception. As long as your TV point installation is installed correctly, you are able to air any free-to-air TV stations on your visual device. A TV point installation boasts convenience to every household through a flexible arrangement of your home's layout. Should it get too hot on your couch or the sun gets all glary in your room, you can easily shift your television around without limiting yourself to the TV point's location. Multiple TV points installation are even viable.
Are there certain locations that are better for TV points?
Locations are usually a preference to where you would like your television to be. However, there are other important factors such as the cavity and material of your wall.
You'd want your TV to be placed as closed to your TV point as possible to minimise any unnecessary cords in between. Since you would need to run a cable through the wall cavity from your antenna to your TV outlet, it is important to make sure your wall doesn't have any unnecessary interruptions. Consider the material of your wall before running a cable through it as another available alternative would be to run the cable over the top and covering it instead.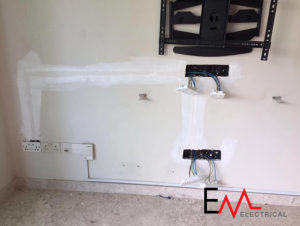 Possible problems that might occur through faulty installations
When an installation is proven to be faulty, the TV reception that you're getting might be affected. The visuals appearing on your TV might start to buzz and homeowners may experience certain voice or image distortions. The strength of the signal might also be affected, causing the reception to be bad. When you start experiencing such problems, it is advised to contact your electrician to come and take a look.
At EM Electrical Engineering, safety is our utmost priority. If you are facing electrical issues with your tv point or power socket, it is important to hire an EMA-certified electrician to help you install it and prevent the occurrence of this problem. By understanding the needs of our clients, we will keep the electrical costs down without compromising on quality of electrical products. Rest assured that we only use original equipment manufacturer (OEM) parts for all of your electrical installations.
Reasons to avoid TV point installation on your own
Although it might be tempting and exciting to start on a TV point installation adventure on your own, it might not be a very good idea. The initial idea of saving money might backfire as an incomplete or faulty installation might incur more costs on your own to fix it in the future.
1. It is RISKY – As simple as it sounds, the installation of a TV point can be risky to a certain extent and could pose certain danger threats to your household's safety.
2. Running cables can have electrical currents – Electrical currents is a perfect example of a possible threat.
3. Equipment issues – Since the process is complicating, you might not even have the suitable equipment required to rectify the problem.
4. It is time consuming – It takes up a lot of time to successfully complete a TV point installation.
5. Complex problems – If not done correctly, complex problems might arise in the future, compromising the initial convenience and flexibility that a TV point installation should be providing for you.
With all the possible problems and complications that could happen, it might be better to contact a professional for your installation as the process would be smoother and easier compared to a DIY TV point installation. EM Electrical Engineering provides reliable and certified TV point installation services in Singapore, ranging from electrical repair to replacement. With our team of reliable electricians that are highly experienced, we offer top-notch TV point installation services. As your preferred electrical contractor, we pride ourselves with using high standards of electrical products and high-quality workmanship to ensure that your electrical points have the longest lifespan.
EM Electrical Engineering offers reliable and professional one-stop electrical services with top-notch electrical products and quality workmanship. Our electrical services ranges from emergency service for power failure in Singapore, electrical installations, electrical troubleshooting and electrical repairs. Head over to our reviews page to read what our customers have said about our electrical services and the articles featuring our high-quality electrical services. Call us today at +65 9395 3311 for a non-obligatory electrical troubleshooting or reach us at emelectricalengrg@hotmail.com and we will assign a reliable electrician to attend to your electrical problems in Singapore.