Lighting point installation
Lights have been around for over 100 years now. They have evolved to consume lesser power, have more wattage and last longer. Light is a means of communication. As the days get shorter and the nights draw in, we start to ask ourselves how important lighting really is for our eyes. As lighting is part of our daily life, it is crucial to be installed safely and to the maximum efficiency.
EM Electrical Engineering comprehends the inconvenience of a power socket failure or lighting point failure in Singapore. Hence, it is absolutely necessary to hire electrical contractors like us with reliable electricians in Singapore to ensure that such inconvenience does not occur frequently.
We provide a one-stop solution for all your power socket or lighting point installation and repair needs. Our licensed electrician in Singapore will assist you with installation of new lighting points and repairing faulty power points.
Table of Contents:
1. What is lighting point installation and why do you need it?
2. Are there certain locations that are better for lighting points?
3. How to DIY lighting point installation?
4. Possible problems arising from faulty lighting point installation
5. Reasons to avoid DIY lighting point installation
6. Advantages of hiring professional electricians
What is lighting point installation and why do you need it?
Lighting point installation refers to the specific wiring required to provide power for light fittings. The wiring for lights must be done separately to other household electronics because lights can run on a separate circuit with a separate Residual Current Device (RCD) for safety. Light points are where the wiring runs to provide power for your light fittings. If a problem develops in the wiring, it can cause a knock-on effect that prevents other lights from working. Therefore, lighting point installation is important to prevent electric shocks.
Are there certain locations that are better for lighting points?
When it comes to installing light points, your preference on the type of lights will decide where the wiring is placed. Wall mounted lights, for example, require inner wall wiring. The next consideration is where the light switches will go, and whether a switch will control individual lights or a grouping.
Locations that are better for lighting points are definitely not somewhere close to other electrical sources or sources that emits heat. For example, lighting points have to be placed at least one metre away from other sources such as water boiler, oven etc.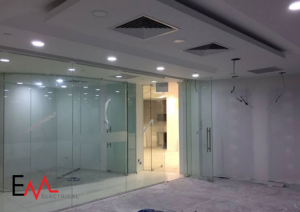 How to DIY lighting point installation?
The first step in installing a light is to understand all the power sources and how the electricity flows through the home. You should also know the amount of voltage that passes through. Hence, when you are installing a light fixture, you should know the optimum allowable voltage.
The cable sheathing (outer jacket) should extend one-half to one inch beyond the clamp, and the cable wires should extend about six inches into the box. If necessary, trim the wires as needed and strip a three-quarter inch of insulation from the each of each wire, using wire strippers.
Secure the cables by tightening the screws on the clamps, being careful not to overtighten and damage the cables. Plastic boxes usually have spring-tabs for clamps and do not require tightening.
Possible problems arising from faulty lighting point installation
The wiring in our households be out-dated and are no longer efficient in supplying electricity to the lighting. Another problem resonates from the fact that circuits fitted during older days were not designed to power different types of lighting of this era. There may be obvious signs of strains with more extension cords and single outlet paving the way to sprout power strips or lurking not seen at the back of ceilings, walls and cover plates.
Here are some possible problems
1. Electrical surges
It can occur due to poor wiring in the house, lightning strikes, faulty appliances or damaged power lines. Surges are common and last for a microsecond but frequent surges lead to equipment damage which drastically degrades life expectancy.
2. Electric shocks
When the electricity is not properly transmitted, it results in electrical shocks. The chances of electrical problems occurring in older households are higher due to the longer prolonged usage period which leads to wear and tear.
3. Light bulb burning frequently
Loose or poorly connected electrical wiring is probably the culprit if your light bulbs tend to burn out in a matter of weeks or even days. A bad connection causes variation in voltage to the bulb, which essentially act like tiny power surges that burn out bulbs.
At EM Electrical Engineering, safety is our utmost priority. If you are facing electrical issues with your lighting point or power socket, it is important to hire an EMA-certified electrician to help you install it and prevent the occurrence of this problem. By understanding the needs of our clients, we will keep the electrical costs down without compromising on quality of electrical products. Rest assured that we only use original equipment manufacturer (OEM) parts for all of your electrical installations.
Reasons to avoid installation lighting points by yourself
You would be wondering, why would I need a service for installing lights in my home? Generally speaking, it is something people will be confident of doing. The truth is, there are different types of requirements. For example, if you buy a LED light from an online store, it might be of the wrong voltage, while the voltage required for general Singaporean houses is around 220 to 240 voltage.
In order to match the suitable specifications, installing a lighting point is much more time-consuming, cumbersome process than expected. This process also requires various equipment and knowledge of electrical circuitry. Installing lighting points by yourself can be dangerous if you do not have enough knowledge about your own lighting point.
The best thing you can do to install a lighting point is to hire a professional electrician.
Advantages of hiring professional electricians
• They do a neat and tidy job. If there is another dust or dirt after installation, they clean up and leave no dust to prevent any incidents.
• They point to you any electrical anomalies in your system.
• They look into your other electrical components, to see what is working and what isn't working.
• It is fuss-free and a time saviour.
With all the possible problems and complications that could happen, it might be better to contact a professional for your installation as the process would be smoother and easier compared to a DIY lighting point installation. EM Electrical Engineering provides reliable and certified lighting point installation services in Singapore, ranging from electrical repair to replacement. With our team of reliable electricians that are highly experienced, we offer top-notch lighting point installation services. As your preferred electrical contractor, we pride ourselves with using high standards of electrical products and high-quality workmanship to ensure that your electrical points have the longest lifespan.
EM Electrical Engineering offers reliable and professional one-stop electrical services with top-notch electrical products and quality workmanship. Our electrical services ranges from emergency service for power failure in Singapore, electrical installations, electrical troubleshooting and electrical repairs. Head over to our reviews page to read what our customers have said about our electrical services and the articles featuring our high-quality electrical services. Call us today at +65 9395 3311 for a non-obligatory electrical troubleshooting or reach us at emelectricalengrg@hotmail.com and we will assign a reliable electrician to attend to your electrical problems in Singapore.