Heater Point installation
Imagine having a warm bath after a game of baseball with your colleagues. Drenched in sweat and feeling all sticky, a warm bath is all that you are hoping for. Heaters are electricity-powered appliances which serves to provide the comfort of warm water for households. The most important thing for a heater to work is none other than the wiring and circuit. Without a proper heater point installation, the heater will not function.
EM Electrical Engineering comprehends the inconvenience of a power socket failure or heater point failure in Singapore. Hence, it is absolutely necessary to hire electrical contractors like us with reliable electricians in Singapore to ensure that such inconvenience does not occur frequently.
We provide a one-stop solution for all your power socket or heater point installation and repair needs. Our licensed electrician in Singapore will assist you with installation of new heater points and repairing faulty power points.
Table of Contents:
1. What is heater point installation and why do we need it?
2. Are there certain locations that are better for heater points?
3. How do DIY heater point installation?
4. Possible problems arising from a faulty heater point installation
5. Reasons to avoid DIY heater point installation
What is heater point installation and why do you need it?
Heater point installation refers to the specific wiring required to provide power for heater fittings. The wiring for heater must be done separately from other household electronics. Heater points are where the wiring runs through, in order to provide power. If a problem develops in the wiring, it can cause a knock-on effect that prevents the heater from producing heat.
Are there certain locations that are better for heater points?
You can install a heater point nearly anywhere, but some walls are more ideal than others since it requires inner wall wiring. The ideal locations for heater points should be a distance from the heater as it may cause too much heat transmission from the heater to the heater point. This will blow the heater fuse, damaging the heater and causing a fire.
How to DIY heater point installation?
Installing a heater point can be a very complicated process. Firstly, the electric water heaters require a 240-volt circuit, which exists to solely serve the water heater. The wiring includes a double pole breaker, a NM or a MC Cable. The black circuit wire should connect to the heater lead, while the white does the same to its respective colour. For safety reasons, you should wrap a tape or make a marking near both ends of the white circuit wire to show that it is a hot wire. Finally, connect the ground wire to the screw on the water heater.
Possible problems arising from a faulty heater point installation
1. Electric shocks
When the electricity is not properly channelled, it will result in electrical shocks. The chances of such electrical problems arising in old houses were quite high due to the prolonged periods of usage which leads to wear and tear. Alternatively, this issue could also be caused by improper wiring. In serious cases, these electric shocks may escalate to even cause electrocution to death.
2. Frequent tripping of circuit breaker
A common reason why circuit breakers trip is short circuit. A short circuit is caused when a "hot" wire comes into contact with a "neutral wire" in one of your electrical outlets. Whenever this happens, a large amount of current will flow through the circuit, creating more heat than what the circuit can handle. When this happens, the breaker will trip, shutting off the circuit to prevent hazardous events such as a fire. Short circuits could occur for several reasons such as faulty wiring or a loose connection.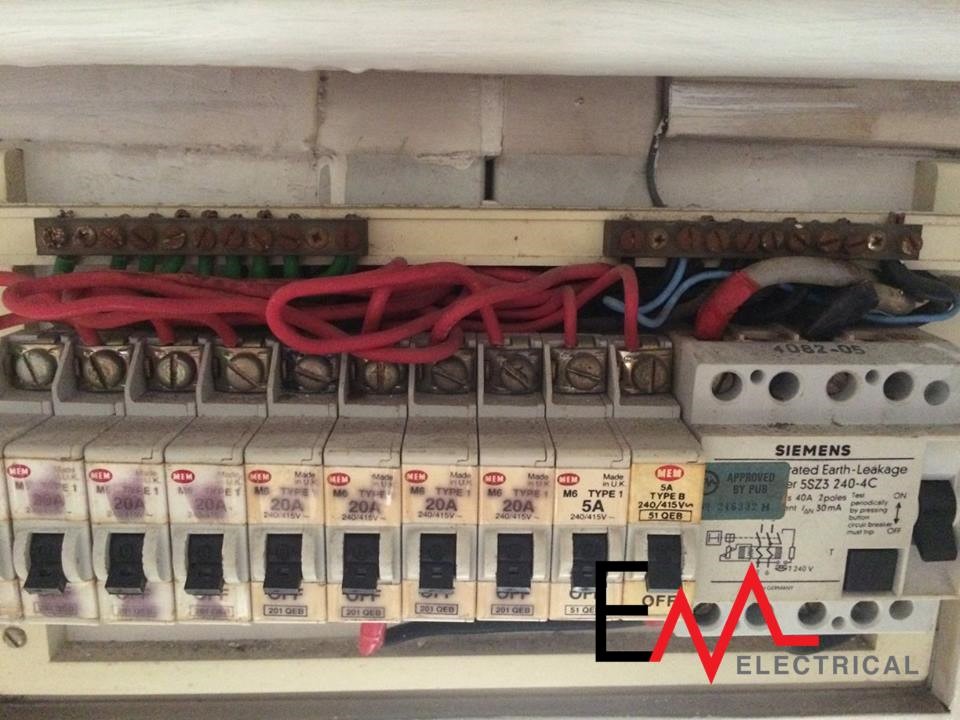 At EM Electrical Engineering, safety is our utmost priority. If you are facing electrical issues with your heater point or power socket, it is important to hire an EMA-certified electrician to help you install it and prevent the occurrence of this problem. By understanding the needs of our clients, we will keep the electrical costs down without compromising on quality of electrical products. Rest assured that we only use original equipment manufacturer (OEM) parts for all of your electrical installations.
Reasons to avoid installation heater points by yourself
Many may think that installing heater points by yourself is not a challenging task and are motivated by the opportunity to save a huge sum of money. However, there are actually many factors to consider when installing heater points that are safe for household usage. Here are some reasons why you should leave it to the experienced electricians:
1. Wrong equipment used
One may assume that they have the suitable equipment for dismantling and installing a new heater point. However, to install a heater point properly, there are many factors such as the current, length and thickness of wire, which would require professional equipment to measure precisely.
2. Dangerous
Although it may seem simple and non-intimidating at first glance, doing it yourself exposes one to sensitive touch points such as electrical wires and other electrical issues. A small mistake might cause a deadly consequence. It is advised to practice a DIY installation with caution at ALL times.
3. Less cost-effective
A DIY process may prove to be costly at times. Although it has a high rate of succession, accidents still do happen. If not done correctly, you might incur more costs by getting it fixed. If you have no confidence in completing this task, it is advised to seek a professional for a fuss-free job.
With all the possible problems and complications that could happen, it might be better to contact a professional for your installation as the process would be smoother and easier compared to a DIY heater point installation. EM Electrical Engineering provides reliable and certified heater point installation services in Singapore, ranging from electrical repair to replacement. With our team of reliable electricians that are highly experienced, we offer top-notch heater point installation services. As your preferred electrical contractor, we pride ourselves with using high standards of electrical products and high-quality workmanship to ensure that your electrical points have the longest lifespan.
EM Electrical Engineering offers reliable and professional one-stop electrical services with top-notch electrical products and quality workmanship. Our electrical services ranges from emergency service for power failure in Singapore, electrical installations, electrical troubleshooting and electrical repairs. Head over to our reviews page to read what our customers have said about our electrical services and the articles featuring our high-quality electrical services. Call us today at +65 9395 3311 for a non-obligatory electrical troubleshooting or reach us at emelectricalengrg@hotmail.com and we will assign a reliable electrician to attend to your electrical problems in Singapore.