Just imagine… you were snacking on your favourite pack of Cheetos, laid back on your couch, anticipating the suspense from the drama that you have binged watched for the past ten hours on your home-made cinema screen. The lights that were shining on your screen started dimming, and the images on the screen disappears abruptly, leaving a puzzled look on your face. The sound of the air coming out of your air conditioner starts softening. Overwhelmed with shock, you came into consensus that this is it, a power trip!
Power tripping or power failure in Singapore a common major problem that is faced by many households – at one point or the other in their lives. Singaporeans get frustrated at the fact that they're left clueless with the inability to resolve the occurring problem. Since HDB flat owners would only have access to their electrical box & not the electrical wiring that has been secured behind walls, it is definitely not easy to solve an on-going power trip in Singapore.
Table of Contents:
1. What is power failure?
2. 3 Causes of Power failure
3. How to prevent power failure
4. Things to avoid doing during a power failure
5. How to self-remedy a power failure
6. Effects of power failure
What is a power failure?
Many people get confused between a burned-out socket and a power failure or power tripping in Singapore. It is critical to identify what exactly is a power failure. What happens when the power goes out? A power failure (also known as a power outage) is the loss of electrical power network supply to an end user. In this case, it means that the electricity provided by your electricity provider has been cut off towards your household's end. There are many causes to a power failure, most commonly caused by a short circuit, or the overloading of electricity mains. At EM Electrical Engineering, we have experienced electricians in Singapore with the professional electrical expertise to conduct any electrical-related troubleshooting and rectifications. If you face a power failure in Singapore, contact a reliable electrician to solve the issue.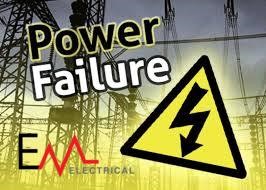 3 Causes of power failure:
1. Short circuit
A short circuit is the most commonly used term to describe the cause of a power failure. Unfortunately, it is also a term that is bandied about without people having much knowledge about what it truly means. So, what is a short circuit?
A short circuit occurs when an electric current travel along a different path from its intended path in an electrical circuit. When this occurs, there is an excessive electric current in the path, leading to circuit damage, fire, or explosion.
1. Overloading
It is important to know that there is a certain capacity of an electrical wiring which should not be exceeded. Overloading occurs when an electric current is carrying more current than it is designed to handle, creating a danger through overheating. Many Singaporeans prefer to connect their electrical appliances to the same socket because of the convenience. What they fail to realise is that this would draw a very large current from the circuit, heating up the wires which could potentially lead to accidental fires.
3. Blackouts/Brownouts
Blackouts refers to a complete loss of power and this is the most severe form of power outage that occurs. Depending on the root of the problem, it can be complicating to restore the power, with restoration time frames differing greatly based on the configuration of the affected electrical network. Brownouts are less severe compared to blackouts. As the name suggests, a brownout happens when there is a drop in electrical power supply. There are times when your usual light bulb isn't looking like itself, producing a dim light compared to the usual glaring light it used to shine. This is due to a drop-in voltage, causing the lights to become dim. Although they are not total power failures, there is still a minimal risk since they can still get overheated and damage insulations.
How to prevent power failure:
Although there are no definite ways to complete prevent power failures, there are a few points to be taken to mitigate the risks of it. Here are some ways which you can adhere to lessen the risks of a power failure happening. If you require emergency electricians in Singapore who are reliable and experienced in power failure to solve the electrical problem, be sure to hire licenced electricians. At EM Electrical Engineering, we ensure that our electricians have the necessary capabilities to conduct any electrical troubleshooting or electrical installation.
1. Proper electric wiring
It is crucial to understand that electrical wires are sensitive insulations that gets easily damaged when they come into contact with a cup of tea/coffee or any form of liquid. It is important to practice safe handling of wires by contacting experienced electrician in Singapore to do the wiring in your household. Start it right, end it right! By setting up a safe and proper electrical wiring in your household, the risks of a power failure in Singapore are mitigated greatly.
2. Avoid Overloading
We all have the tendency to plug all of our electrical appliances to the nearest, most convenient socket. However, it is important to first identify the power ratings of your appliance before attaching it to your outlets. Overloading happens when you plug in too many electrical appliances at the same time. Plan ahead, be delicate! It is strongly advised to come up with an electrical system plan that matches the usage of your electrical appliances before any form of electrical installation!
3. Get backup sources
Faults in power stations or transmissions are often out of your control. The very first thing you should do is to get backup electricity sources whenever this happens. Since the restoration time differs greatly on the severity of the problem, the only consolation would have to be depending on your backup electricity source to keep your daily life going.

4. Pay your bills on time
Electricity does get disconnected because of unsettled bills. If you need to avoid power outages, you are politely reminded to pay your electricity bills early enough to prevent any interruptions.
If you have tried the various methods without successfully solving the problem, do call in an emergency electrician in Singapore to conduct a troubleshooting and solve the problem of power failure or power tripping in Singapore. Our experienced electricians will be able to provide some tips to ensure that power failure in Singapore will no longer occur frequently in your household.
Things to avoid doing during a power failure:
When a power failure in Singapore occurs, it is unavoidable that you will start to get hasty and desperate for any remedy actions to be taken immediately. However, it is critical to know that there are some things to avoid during a power failure for your personal and household's safety. And the first step is to stay cool and follow the following life-saving manual:
1. Unplug, unplug, and unplug
Whenever a power failure happens, it is important to unplug all your appliances as further electricity surges may cause damage to the insulations. Taking these plugs out around the house could still offer protection against the electrical surge of the power coming back.
2. Never start lighting
We all know the inconvenience it provides when a power failure happens, but you should never resort to lighting a candle. Candles are wonderful, but once they tip over, a fire is bound to happen. Since they don't provide strong light, you're better off sticking with a lantern.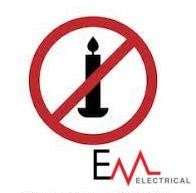 3. Avoid touching the "fallen"
These dangling dead wires aren't always out of power. It can potentially still be "live", surging with leftover electricity that poses as a great threat to whomever who touches it. Whenever a power failure happens, it is important to keep a safe distance from the "fallen" wires and only move it when the power comes back on.
4. Use a flashlight you haven't touched in ages
Don't be surprised if your flashlight won't turn on the way you want it to when you need it the most. Always keep spare batteries in case of these emergencies so you can always fall back onto them whenever you need it. This temporary solution should aid you in your recovery mission until your power comes back on.
Home remedies:
When the electrical power goes out in your household, the first thing to do is to determine the source of the problem. The problem could either be lying with your home's electrical system or with the utility company's electrical supply to your home.
1. Ask your neighbours
If your neighbours appear to have lost power too, call the utility company for further clarifications. It is unlikely for power outages to happen in both you and your neighbour's household if the problem doesn't arise from the company itself.
2. Check your electrical distribution board
The first thing you should do is to check your electrical distribution board to observe whether the plugs are "tripped". Electrical boxes for HDB flats are usually found inside a cupboard. It is important for homeowners to know how these boards work as there are circuit breaker trips located in the board. These trips are made to shut down the power supply during an outage to prevent overloading, essentially preventing a fire break out. When in doubt, call your nearest professional electrician before attempting any remedy actions.
Effects of power failure
When a power failure happens frequently, it may have several adverse effects on your household. Here are some things to expect when a power failure in Singapore happens:
1. Damaged equipment
Power outages can cause long-term damage to your equipment or appliances. Always make sure to replace your electrical appliances regularly to ensure that they are always new and ready.
Data loss
Power outages are one of the top reasons data loss occurs. Imagine spending the night completing your reports, only to find out that the data is corrupted or lost due to a power outage. Since computers and operating systems are complex, they are required to be manually shut down properly. If power outages happen frequently, they can damage your hard drive and reduce its life span.
Loss of sales (retail and wholesale)
It is inevitable to suffer lost sales revenue with unplanned outages. For large retail companies, a few minutes of downtime could lead to very significant amount in lost revenue.
At EM Electrical Engineering, we have experienced electricians in Singapore with the professional electrical expertise to conduct any electrical-related troubleshooting and rectifications. If you face a power failure in Singapore, contact a reliable electrician to solve the issue. Among our team of experienced electricians in Singapore, we have emergency electricians in Singapore who specializes in power failure emergency, minimizing the downtime and solving the problem quickly.
EM Electrical Engineering offers reliable and professional electrical services with top-notch electrical products and quality workmanship. Our electrical services ranges from electrical installations, electrical troubleshooting and electrical repairs. Head over to our reviews page to read what our customers have said about our electrical services and the articles featuring our high-quality electrical services. Call us today at +65 9395 3311 for a non-obligatory electrical troubleshooting or reach us at emelectricalengrg@hotmail.com and we will assign a reliable electrician to attend to your electrical problems in Singapore.