Light installation, relocation or fitting services
Lighting is especially crucial in transforming a house into a home. Appropriate lighting enables homeowners to complete tasks efficiently, feel safer and create an aesthetically-pleasing haven after a long day at work. However, based on the size of each room in the house, there are specific lighting needs. It is important to have a reliable electrician in Singapore to assist you with that in order to do it once, do it right. Faulty installations may sum up to a larger amount than the installation cost you saved while doing it yourself.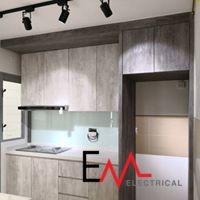 Table of Contents:
– Different types of light installation and how they suit your house
– Common light installation problems
– DIY Replacement of light fixtures in Singapore
– When should you DIY light replacements versus hiring a professional electrician?
– Energy and money-saving through efficient lighting
Different types of light installation for different parts of your house
This is a general guide on the types of light installations for various parts of your house. Based on the functionalities or aesthetic purpose of the lights, we will conduct professional lighting installation services in Singapore to ensure that your ideal lighting conditions are achieved at an affordable rate. Here are some lighting inspirations:
– Kitchen and Bathroom lights
It is crucial for lightings in the kitchen and bathroom to be well-lit at any time of the day since we are constantly completing tasks in that area. Having multiple lights would serve to complete the aesthetic look of the area, while providing sufficient lightings to remove any dark areas which could lead to injuries. Light installations here would include LED light installation, ceiling light installation and wall lighting at the corners. However, lights installation at this area is tricky since these lights will be exposed to water. It is crucial to have a certified professional electrician in Singapore to ensure that the electrical wiring is done with caution. Our licenced electricians are well-trained in handling electrical wirings to ensure no breach of safety for your lightings in areas that will be exposed to water.
– Living room lights
The lights in the living room conveys the first impression of a home's interior. The purpose of the lightings are to provide basic illumination, and create a welcoming atmosphere to the guests of the home. Based on the size proportions, home owners can consider an installation of a traditional chandelier, or a close-to-ceiling fixture in order to achieve the aesthetic welcoming effects. With a larger space, you will require a larger fixture. Our professional electricians are well-trained in providing electrical design consultancy to ensure that these light installations in Snigapore fit perfectly into the atmosphere you are attempting to create. Our professional electricians in Singapore are more than happy to provide you light installation guides and inspirations in order to create your dream home based on your budget.
– Bedroom light installation
These lightings play an important part in the overall outlook of the room. In order to achieve a cosy environment in the bed room, recessed lights can be installed such that the lights are dimmer. Apart from the various light fixtures that could be used, it would be ideal for the light switches to allow dimming of lights instead of only on and off. Our professional electricians in Singapore are specially trained in lights and switches installation and are definitely equipped with the knowledge to advise you on the most suitable switches control of your bedroom lightings. The different light installations that can be done are LED light, ceiling light and recessed down lights installation.
At EM Electrical Engineering, our reliable and experienced electricians will gladly share their expertise in selection of design to suit your ideal final outlook. Apart from light installation in Singapore, we conduct other electrical services to prevent the occurrence of other electrical issues or power failure in Singapore. Hence, it is important to hire the service of EMA-licensed electricians who are knowledgeable in the resolution of all types of electrical problems to ensure no further complications. Our reliable electricians in Singapore will gladly assist you with that. With our 100% guaranteed satisfaction as seen from our previous projects, be expected to receive nothing but top-notch electrical products and workmanship!
Common Light Installation problems
With lightings being used so often in a household, it is common for homeowners to face light installation problems issues. Hence, it is crucial to have basic knowledge about light installation problems before hiring professional electrical services. There are certain problems which can be self-rectified. On the other hand, there are also problems which require the service of licenced and professional electricians like EM Electrical Engineering to assist you for light installation in Singapore:
These are some of the common light installation and fixture problems you should be aware of:
1. Faulty Wiring
Lighting components comprises of many parts, including the wires and tube casings. These wires are usually very delicate, which might be prone to damage upon any mishandling. Our professional electricians are extremely careful when dealing with these light bulbs even when they are brand new removed from the package. Also, at EM Electrical Engineering, our quality control team are extremely strict in the standard of lighting brands that we use in order to provide our clients the products which has the longest lifetime. During installation, it is crucial to check that the wirings are in their original placing. Should the wires be out of their places, there are possibilities that they can get frayed, bent, broken or detached from their terminals, causing the common household phenomenon of "my lights are not working".
2. Light Bulbs burning out quicker
Light bulbs are supposed to be quite long lasting, providing you with lights for many years without replacements. Hence, regular burning out of light bulbs is a serious issue which is not supposed to happen. Reasons include low quality bulbs usage, switch problems or wiring issues. Should you face these kind of problems, please feel free to call our friendly experienced electricians in Singapore to troubleshoot the underlying problem. After a proper and comprehensive troubleshooting, our licensed electrician will provide you with the diagnostic of the problem, recommending you the most suitable repairs and replacement of light fixtures. Our strict quality control team will ensure the usage of high quality light fixtures, providing you hassle-free lights for the next few years.
3. Flickering and Dim lights
It is common for households to experience flickering and dim lights one fine day when you've turned on the switch. There are various reasons why the lights will be flicker, including poor wiring, damaged starters and faulty switches. If your lights are flickering, you should troubleshoot the actual cause and the light fixture for proper replacement. Do note that it is extremely dangerous to handle the electrical wires without prior electrical knowledge. Should you face flickering and dim lights issue, feel free to contact our professional and licensed electrician in Singapore for troubleshooting services and replacements of the faulty parts. At EM Electrical Engineering, we pride ourselves to use only the highest quality of electrical light fixtures to ensure our customers a hassle-free lighting for the next few years.
4. Damaged light switch
These light fixtures are controlled by various types of switches, which should also be functioning well to ensure the lights are working. Switches can be damaged because of various reasons including loose wires, overheating, wear and tear after a prolonged period of usage. It is advisable to ring an experienced and licenced electrician in Singapore to fix the damaged light switches to ensure smooth running of your lights again. At EM Electrical Engineering, we have electricians who are more than happy to provide comprehensive troubleshooting to determine the root cause of your damaged light switches. After replacement, advice will be provided regarding the usage of these electrical devices to ensure a longer lifespan. After all, prevention is better than rectification- proper way of usage will definitely save you repair fees.
DIY Replacement of light fixtures in Singapore
While you should hire a reliable and licenced electrician to replace your damaged light fixtures in Singapore, some household owners with prior knowledge may attempt replacing light fixtures. However, do take note of the safety precautions to take prior to fixing. The great part about light fixtures replacement is that it's a pretty universal process. These are the steps to take:
1. Turn off power to the old fixture
2. Remove the canopy to expose the wiring and fixture hardware
3. Unscrew the three wires (Black, white and copper)
4. Remove the old light fixture
5. Install the new bracket
6. Connect new fixture wires
7. Secure the new fixture
8. Restore power and test out the new fixture
Note that at any point of the replacement of light fixtures, ensure that your hands are totally dry and always standby for sufficient lighting such as torch lights should you be replacing the lights at night. After attempting to replace the light fixtures, should complications arise from the unsuccessful installations, do give our experienced and reliable electricians in Singapore a call. On top of replacing the light fixtures, our helpful electricians will teach you how to replace light fixtures in case this happens in the future.
Saving energy and money through efficient lighting
Efficient lighting allows you to light your home using the same amount of light for less money. An average household dedicates about 5% of its energy budget to lighting, and switching to energy-efficient lighting allows you to cut your energy bills. This is done by replacing your home's five most frequently used light fixtures with energy saving features. You can expect to save almost 50% on your electricity bills. If you are facing the high electricity bills, our licenced and experienced electricians can provide an in-depth diagnosis of the problem and propose sustainable measures to reduce energy usage. At EM Electrical Engineering, our quality control team uses products which are of high quality and at the same time energy-saving. Rest assured that our reliable electricians in Singapore will have the tailor-made solution to your high bills problem! Additionally, we only use original equipment manufacturer (OEM) parts for all our electrical installations to ensure that we provide our customers with the best quality of goods with the maximum lifespan.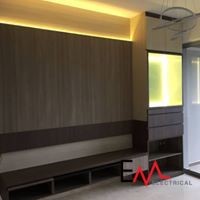 EM Electrical Engineering offers reliable and professional one-stop electrical services with top-notch electrical products and quality workmanship. Our electrical services ranges from emergency service for power failure in Singapore, electrical installations, electrical troubleshooting and electrical repairs. Head over to our reviews page to read what our customers have said about our electrical services and the articles featuring our high-quality electrical services. Call us today at +65 9395 3311 for a non-obligatory electrical troubleshooting or reach us at emelectricalengrg@hotmail.com and we will assign a reliable electrician to attend to your electrical problems in Singapore.